Forum Beta Instructions
Thank you for participating in the beta test stage of acu-connect forums! We are working on making many improvements to the forums, but for now we need you to help get some conversations going so that there is existing activity when we go live, and in so doing we hope you will help us identify any "undocumented features" you may encounter!
Forum Types
There are three types of forums:
Public forums: These are visible to anyone, whether logged in or not, but only logged in users may comment.
Member only forums: These are only visible to logged in users, and any logged in user can participate.
Private forums: These are visible to logged in users, and you must request membership and be approved to access them (ex: Partners & ISVs forum).
Registering / Creating your login
Go to www.acu-connect.com/acu-login  and select "Register".
Follow the steps to create your login. You will receive a confirmation email with a link you will need to click on to complete the registration.
Accessing Forums:
Once you've logged in, go to www.acu-connect.com/forums  to begin using the forums. (this page will be added to the nav when the forums go live, but for now you will need to use this link for access)
Tips for using forums:
Click on "Subscribe" to be notified of new posts in that forum.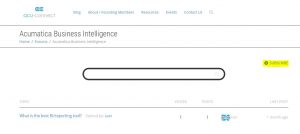 As of 12/13/19, we are still working on functionality around subscribing to topics and using "favorites" functionality.
Questions or comments? Please email info@acu-connect.com.