One of many firsts this year at Acumatica Summit was the first official Acumatica Summit podcast production, in partnership with Enterprise Software Podcast.
If you're not familiar with Enterprise Software Podcast, it's an independent podcast that's published twice a month. Hosted by industry veterans Bob McAdam and Darcy Boerio, the episodes consist of news, views, reviews, and interviews pertaining to enterprise software, with a focus on mid-market ERP.
The hosts conducted a total of 19 3-5 minute interviews with Acumatica Summit attendees, talking with them about their business, their relationship with Acumatica, their Summit experience, and more. Guests included a variety Acumatica partners, employees, customers, and Summit sponsors, including many acu-connect founding member companies (Paramount WorkPlace, Repay (formerly known as APS Payments), DataSelf, DataQuest, DSD, and Aktion Associates). There was even what the hosts often refer to as a "shameless plug" for acu-connect during the interview with Repay's Liz Anderson and Patty Benitez in Part 1 – thanks ladies!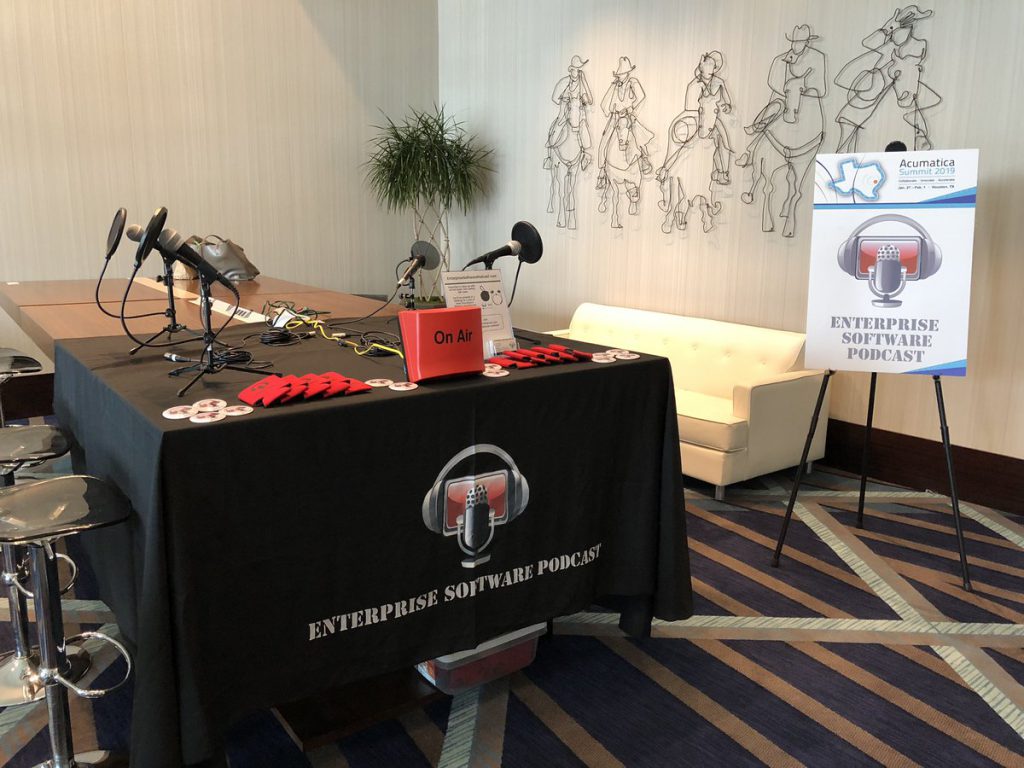 "If there's one common theme that you'll hear throughout our interviews, it's enthusiasm. All of our guests expressed excitement – not only about Acumatica Summit, but about the company and the technology in general."

Darcy Boerio, Co-host of Enterprise Software Podcast
You can listen through itunes or your favorite podcast app, or just play it right from your browser:
Enterprise Software Podcast Episode 95 – Acumatica Summit 2019 (Part 1)
Enterprise Software Podcast Episode 96 – Acumatica Summit 2019 (Part 2)
These pages also include a list of the respective episodes' guests in order of appearance.
This is not Acumatica's first appearance on the podcast. Visit the show's archives to find past Acumatica interviews with Dawn Jaeger, Ray Rebello, AJ Krishnamoorthy, and Sean Chatterjee (from the 2017 R2 Roadshow).