Acumatica is the fastest-growing cloud ERP product on the market. And with good reason. In this article, we are going to talk about two aspects of Acumatica that makes them stand out above the rest.
Strategic Partnerships
Acumatica has chosen to partner with some of the best cloud services in the world – Amazon and Microsoft. AWS (Amazon Web Services) is a very large government provider of cloud services, so their environment is one of the most secure in the world. If you run Acumatica as a SaaS cloud model, this is where your Acumatica platform will run. This means you can take advantage of the security and advanced technology AWS offers.
Acumatica's partnership with Microsoft also brings advantages. Acumatica supports integration with Microsoft Azure Active Directory (Azure AD), meaning it integrates into Microsoft 365 and Power BI to provide centralized user and access management, with single sign-on across applications.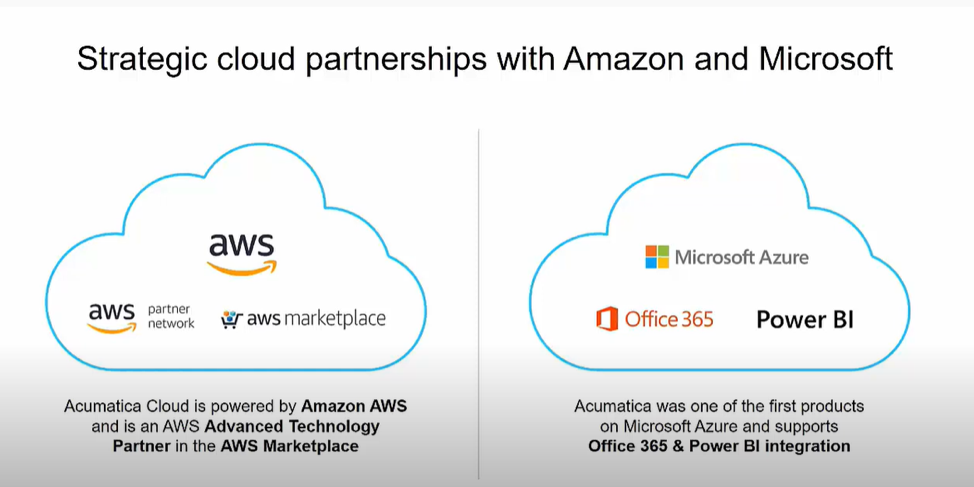 Open Architecture
While many ERP vendors still employ closed architecture, Acumatica offers open architecture. What do these terms mean?
Closed Architecture– Vendors intentionally close their APIs. This restricts third parties from accessing the platform.
Open Architecture– Vendors provide open interfaces and seamless cloud-to-cloud integrations, making additions and enhancements easy.
Advantages of Open Architecture:
Rapid Integration: Being born in the cloud, Acumatica's open API allows it to seamlessly integrate with other cloud solutions such as DocuSign, Adobe, Power BI, Box Storage, Avalara, or even other CRM systems.
Stay Connected: In today's digital economy, staying connected has never been more important. Seamless cloud to cloud integrations supports a company's ability to do that.
Decrease costs: While integrating from one cloud platform to another, you save money on setup and do not have to spend funds developing interfaces.
Easy Collaboration: Open Architecture provides for easy collaboration with customers, partners, and third-party applications.

Founded on an open platform, Acumatica was built to give you the flexibility your company needs. Partnered with industry-leading experts, and designed with an open architecture that allows you to integrate seamlessly with other applications, Acumatica continues to provide what growing companies in today's market truly need. Why not look into it and see for yourself?
Watch a deep-dive overview of Acumatica:
Are you ready to evaluate Acumatica? Let's start the conversation.
Contact CAL Business Solutions at sales@calszone.com or 860-485-0910×4.
By CAL Business Solutions, Acumatica and Microsoft Dynamics GP Partner,