At the recent Acumatica 2020 R2 Launch event company CEO, Jon Roskill surprised attendees by reporting, "Over 40% of our customers actually accelerated their businesses during the COVID-19 outbreak – some as much as 3000%."
In response to the current crisis, many people are relying more on technology than ever before to maintain personal and business connections. Acumatica customers are among the fortunate ones to have a leading-edge cloud-based system at their fingertips. Since many organizations have transitioned their office professionals to remote work, having a Cloud ERP system that is easily accessible anywhere and on a wide range of devices is a major advantage.
Our client, Bryan Mullen, SVP, Shared Services at Lifeway Mobility understands that advantage well. Thanks to Acumatica Cloud ERP, his company has been able to operate safely from home without having to worry about VPN connections or other hurdles typically faced when working with on-premises ERP solutions.
Bryan's story is one of many featured by Acumatica on their "Ensure Business Continuity with Acumatica Cloud ERP" page.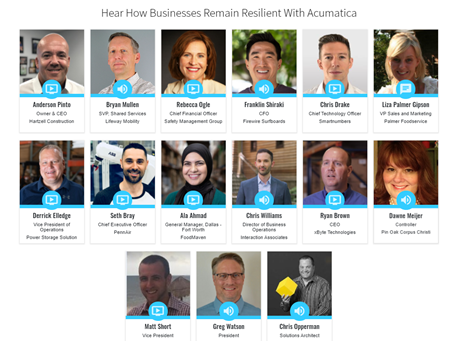 In his 38 second audio clip Bryan says, "Lifeway Mobility has maintained our business continuity in these trying times in large part due to the Acumatica Cloud ERP System. In fact, all of our office administrative and customer service staff are working remotely from their homes without even the slightest hint of disruption. We don't have to worry about VPN connections, server maintenance, or even software client installs. This comes with thanks in large part to our partnership, and it is a true partnership, with Acumatica and CAL Business Solutions."
Read the full Lifeway Mobility success story: Acumatica Helps Company Rapidly Accelerate Growth With One Connected System in the Cloud
In addition to audio and video stories of how Acumatica has helped businesses adapt to the current restrictions, you can also download their free "Ready for a Remote Workforce?" report, which details how cloud ERP can aid the transition from in-office to remote work. Another report, "How to Survive COVID-19—and Thrive in the Digital Economy" can help you navigate our country's new economic reality while still remaining safe.
The site also provides a number of on-demand Webinars on business continuity, leveraging SBA loans, paycheck protection and other valuable resources during this crisis, and how to navigate challenges in the construction industry. All of this and more are available for free at Acumatica.com.
Whether some or all of your teams are working remotely, ensuring they are still able to connect effectively and continue their normal business workflows is essential to making it through this crisis intact. Moreover, with Acumatica Cloud ERP and a sound plan in place, your business can even flourish.
If you are ready to replace your ERP/accounting software to a system that will help you to thrive during challenging times, CAL Business Solutions can help. Let's start the conversation. Contact us at 860-485-0910 x4 or sales@calszone.com.
By CAL Business Solutions, Microsoft Dynamics GP and Acumatica Partner, www.calszone.com
Follow us on Twitter: @CALERPNEWS