With less than a week until Summit, it's time to start planning your can't-miss activities!
We've compiled a list of all the ways that you can connect with acu-connect community sponsors in Vegas. Read on to learn about sessions, prizes, parties, and more!
SUNDAY, JULY 18 EVENTS
3:00 – 4:30 acu-connect session: Maximize the benefits of acu-connect, the independent community for partners, users, and ISVs, Pomeral Room
9:00 – 11:00 Acumatica Summit After Part-Tee at MGM Las Vegas Top Golf  RSVP here
Sponsored by acu-connect sponsors REPAY, Lockstep, Phocas, and V-Technologies
MONDAY, JULY 19 EVENTS
2:30 Workforce Go! session: Better Together – Payroll, People, and Time for Acumatica by Workforce Go!, Fleurie Room
3:30 REPAY session: 5 Tips to Digitize AR & AP B2B Payments in Acumatica, Fleurie Room
3:30 SPS Commerce session: Tackling Supply Chain Challenges with EDI Automation, Castillon Room
TUESDAY, JULY 20 EVENTS
10:15 DataSelf session: From GI to BI in 10 minutes with DataSelf Analytics
11:45 VelocIT session: 3 Critical Tools Your Retail Business Needs Today: Cloud EMV, Counter Sales, and AcuPOS
12:45 WorkForce Go! cash prize drawing – Attendees that are scanned by one of the Workforce Go! team members will be auto entered into the drawing.  They will be giving away two $1,000 and one $3,000 cash prizes.
1:00 Avalara session: Is your company Sales and Use Tax Compliant?, Fleurie Room
1:30 Altec session: Acumatica + DocLink = AP Automation Made Easy, Fleurie Room
ONGOING
Complete your passport to be entered to win a trip!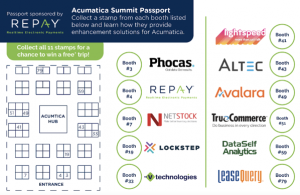 Sponsored by REPAY, Lightspeed, Avalara, V-Technologies, TrueCommerce, Altec, Lockstep, Phocas, DataSelf, NETSTOCK
EXPO HALL
Visit acu-connect sponsors in the Expo Hall – just look for the acu-connect flag in their booth! Here are some cool activities, swag, and people you'll find there:
Masks, socks, fun novelty pens and more!
Alicia Weigel (Technical Sales Lead) – sales@rocktonsoftware.com, Mark Rockwell (President/owner) Markr@rocktonsoftware.com
Visit the Phocas booth to see a demo of Phocas in action – and enter to win a Nintendo Switch!
Sonya Balzer sonya.balzer@phocassoftware.com; Nathan Carter nathan.carter@phocassoftware.com; Skyler Stanton sklyer.stanton@phocassoftware.com; Matthew Kantelis matthew.kantelis@phocassoftware.com; Phillip Spencer phillip.spencer@phocassoftware.com; Jay Deubler jay.deubler@phocassoftware.com; Tim Poindexter tim.pointdexter@phocassoftware.com; Jamie Brooks jamie.brooks@phocassoftware.com
Pick up your passport to enter to win a free trip!
Ammah Billington abillington@repay.com, Patty Benitez pbenitez@repay.com, rwaite@repay.com
Enter to win an Orca Cooler so that a shipper can ship into summer.
Stephen Karem, Director of Partners – stephen.karem@pacejet.com, Alan Minton, VP of Sales, Alan.Minton@pacejet.com, Mark Skelly, Acumatica Account Executive, Mark.Skelly@pacejet.com, Matt McRae, Integrations Manager, Matt.McRae@pacejet.com, Sam Bush, Director of Marketing, sam.bush@pacejet.com
Get your passport stamped to be entered to win a trip!
Russ Graf russ@netstock.co 602-418-6045. Craig de Kock craig@netstock.co Eric Chicoine eric.chicoine@netstock.co
Stop by and get a limited edition T-shirt — while supplies last!
Jeremy Burt (jburt@govelocit.com, 844-325-7770 x401), Shawn Burt (shawn@govelocit.com, 844-325-7770) Nancy Burt (nancy@govelocit.com, 844-325-7770)
Booth #15 – Integrated Business Systems, Inc.
Dan Lehman dlehman@ibsre.com
Chip Greer 781-325-2615 cgreer@lockstep.io, Lindsey OBrien 4402217257 lobrien@lockstep.io, Ryan Steigerwald 781-325-2615 rsteigerwald@lockstep.io, Mike Reigelsberger 949-241-7601 mriegelsberger@lockstep.io
Jordan Fladell (jordan.fladell@celigo.com) VP Alliances, Laura Doherty (laura.doherty@celigo.com) Alliances, Theresa Putzier (theresa.putzier@celigo.com) Channel and Sara Cole (sara.cole@celigo.com) Partner Enablement
Get your passport stamped to be entered to win a trip!
Matt St. John / mstjohn@vtechnologies.com + Caroline Rua crua@vtechnologies.com
Booth #37 – Workforce Go!
In addition to the cash prize drawing on Tuesday at 12:45, Workforce Go! will also give away Instant Cash ($50) to those attendees wearing a Workforce Go button.  Attendees can pick up their Workforce Go! button at the Workforce Go! booth.
Kimber Crumlish, Dir. of Channel Development – kcrumlish@myworkforcego.com; Maria Caputo, Dir. of Sales and Marketing – mcaputo@myworkforcego.com; Jessica Morency, RSM – jmorency@myworkforcego.com; Chris Goheen, President – cgoheen@myworkforcego.com
Make sure you visit the AvidXchange booth and pick up a scratch off ticket to see if you are a big winner! They'll be giving away yeti's, gift cards and even a TV! You won't want to miss it.
Kim Bader 704-519-7502 kbader@avidxchange.com
Gabriel Michaud (Founder) – 514-360-5766 x100 //// Duffy Cohen (Channel Sales Manager) -514 8923833 /// Pavel Kabir (CTO) /// Harry Lewis (Support, Training & Documentation)
Booth #41 – Lightspeed Voice
Drawing for Bose SoundSport Wireless Headphones or Bose SoundLink Bluetooth Speaker
Steven Mohr smohr@lightspeedvoice.com, Doug Paul dpaul@lightspeedvoice.com, Brad Fuller bfuller@lightspeedvoice.com 
April Blankenship – aprilblankenship@altec-inc.com; Kevin Dudevoir – kevindudevoir@altec-inc.com; Merri Jo Cleair – merrijocleair@altec-inc.com; Don Howren – donhowren@altec-inc.com; Caleb Castellaw – calebcastellaw@altec-inc.com; Mark Uranza – markuranza@altec-inc.com; Maddy Majewski – maddymajewski@altec-inc.com
Tons of great orange ava-swag!
Rick Bennett, Doug Yearick, Connor O'Donnell, Jeff Roth, Mike Wingrove
Stop by for assorted giveaways!
Jeff Franklin (jeff.franklin@truecommerce.com), Reed Houston (reed.houston@truecommerce.com), Christina Bollinger (christina.bollinger@truecommerce.com)
Go from GI to BI in <10 minutes! Stop by the DataSelf booth to launch your free trial of Advanced Analytics for Acumatica. Learn more about the DataSelf Launchpad
Joni Girardi jgirardi@dataself.com, Zack Van Valkenburg zvanvalkenburg@dataself.com
We look forward to connecting with you in Vegas!