Painless Acumatica Data Extraction…Yes, There is Such a Thing!
Acumatica is renowned for its extensive range of reports and dashboards that empower users to stay on top of their business processes. From AR Aging to Stock Status, these reports effectively track the copious amounts of data entered into the database.
However, there are occasions when users require deeper insights beyond the default Acumatica reports. Such instances may involve trend analysis, predictive forecasting, cross-module/cross-tenant analysis, or the integration of Acumatica data with legacy and external data.
Delving into these advanced analyses typically falls under the responsibility of individuals with technical expertise and often involves extracting data into reporting tools like Excel, Tableau, and Power BI.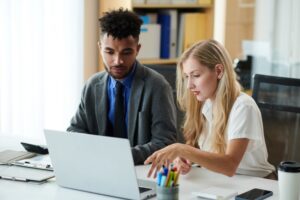 But the reality is extracting data for a simple report is easy, but extracting data for a complex one is challenging.
Data extraction becomes necessary when standard reports fail to provide the required insights. As the demand for more sophisticated data extraction increases, technicians must turn to powerful yet complex tools to assist them. Tools such as REST/OData, Python, and ODBC may come into play. While more robust than Excel, each of these tools demands significant technical knowledge and proficiency. Developing individual extraction processes can be time-consuming, often taking days or weeks to complete. Furthermore, finding a suitable replacement if the sole data expert within a company departs can be incredibly difficult.
Another critical factor in the coded extraction processes is time efficiency. None of the aforementioned extraction methods are optimized for Acumatica due to their generic nature. Even with a skilled staff member well-versed in these methods, managers seeking specialized reports like cash-flow projections or inventory analyses often have to wait for days to access the data. And that's often time they can't afford to lose.
Thus, when a tech-savvy individual asks:
"How can I easily extract the precise Acumatica data I need in a format suitable for reporting?"
The answer is:
"By utilizing DataSelf's ETL+ solution."
DataSelf's ETL+ (Extract, Transform, Load) aligns with Acumatica's development and keeps pace with the latest versions of OData and Acumatica. Leveraging proprietary technologies, DataSelf's ETL+ offers a data extraction tool that requires no programming expertise. Users gain complete access to Acumatica's DAC (Data Access Class) schema, allowing rapid retrieval and replication of desired data in a robust MS SQL Server data warehouse. No installation of MS SQL or expertise necessary.
DataSelf's ETL+ efficiently deposits and refreshes Acumatica data in an external data repository, supporting a vast selection of querying and analytical tools. Initial data extraction brings in all available information, while subsequent extractions, whether on-demand or scheduled, are expedited by capturing only new and modified records. With Acumatica data replicated in MS SQL or CSV format, users can effortlessly analyze it using a wide variety of tools, including Power BI, Tableau, Crystal Reports, SSRS, and more.
An often overlooked aspect of DataSelf's ETL+ module is its ability to function independently or as part of a comprehensive analytics solution. When combined with a SQL data warehouse, leading BI tools such as Tableau or Power BI, and an extensive library of report and dashboard templates, DataSelf's affordable end-to-end analytics package covers all bases.
With ETL+, the process of extracting Acumatica data becomes quick, automated, and painless – no anesthetic required!