Up Your Acumatica Game with acuCONNECT 2023
acuCONNECT provides an opportunity to learn more about Acumatica Cloud ERP, the chance to connect with other Acumatica users and experts, and the opportunity to share your Acumatica best practices and experiences. Best of all, it's free and like using Acumatica, you can connect from anywhere.
Insightful Sessions
acuCONNECT includes an agenda packed with insightful sessions designed to deepen your Acumatica product knowledge and highlight solutions that can help you get the most out of your Acumatica investment.
Check out out all of the valuable content from  previous acuCONNECT events:
Discover Solutions
acuCONNECT includes a virtual Expo Hall where solution providers will help you discover ways to expand the capabilities of Acumatica. Seize the opportunity to speak directly to solution providers about your business, and hear how they can solve your specific business challenges.
Share and Make Connections
acuCONNECT includes breaks between sessions and end-of-the-day social events. Connect with other Acumatica users and discuss solutions for industry-specific challenges. Make connections with others in the same industry using Acumatica Cloud ERP to manage their business – and keep the connection and knowledge sharing going after the event!
acuCONNECT 2023 is our fourth-annual virtual conference that focuses exclusively on Acumatica Cloud ERP customers and partners!
Join us on September 13-14, 2023 for your chance to:
Learn from experts, solution providers, and other users how to get the most from Acumatica
Share your knowledge about how you use Acumatica to manage your business
Connect with other acu-connect community members and experts
Don't miss this incredible opportunity to discover how your business can get even more out of Acumatica Cloud ERP – not to mention the chance to win prizes, have fun, and it's FREE thanks to the generous support of our sponsors!
acuCONNECT 2023 Agenda
Note: Agenda subject to change without notice, all times listed are Eastern Standard Time (UTC-4).
Pre-Event Expo and Networking
Day One Welcome and Keynote by Ed Kless: "Innovation Beyond Technology"
Innovation goes beyond just technological developments. Technology is important, but it is only a small part of innovation. For innovation to be more fully complete, we must look at other areas including internal processes of the organization and most importantly, the language we use.
Ed Kless
Co-Host of The Soul of Enterprise Podcast with Ron Baker
Acumatica AR and AP Payments Revolutionized
Integrating payments with Acumatica is revolutionizing how you can streamline digital AR and AP vendor payments. REPAY can help!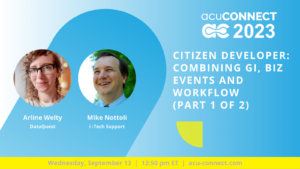 Citizen Developer: Combining GIs, Biz Events and Workflow – Part 1
How do you make a well-oiled machine? Come see in part 1 of our 2 part session. Learn to use no-code and low-code tools to make a symphony of the Order to Invoice process.
Note: Part 2 is scheduled on Thursday, September 14 at 11:15 am.
Arline Welty
DataQuest
Mike Nottoli
i-Tech Support
Acumatica with Power BI, Tableau, Excel, and More
Learn how to optimize Acumatica data extraction for reporting tools of your choice. DataSelf ETL+ overcomes OData and MS SQL limitations.
Joni Girardi
DataSelf Analytics
MFGStream: Automate Your Shop Floor & Reduce Costs
Drive Manufacturing efficiency to the next level! ICG's MFGStream delivers scripted data collection, workflow automation, and improved inventory accuracy.
Roger Weidel
ICG-MFGStream
Pre-Event Expo and Networking
Streamline Acumatica Shipping with StarShip Cloud!
If you're looking to save time, money and significantly improve your order fulfillment process – don't miss this session!
Matt St. John
StarShip by V-Technologies
Goodbye, Manual Labor! Hello, Cash Flow!
Learn how Nodus helps companies increase cash flow and decrease manual labor by integrating AR automation tools within Acumatica.
Is pricing a challenge? Would you like to 'set it and forget it' pricing? If so, this is the session for you!
Rhonda Sutliff
Rockton Software
How Nuvei & Paya are Solving Payments
Integration, integration, integration. Learn how Paya's Acumatica-certified payments solution is innovating to save time and reduce costs.
Jeremy Burt
Paya, a Nuvei Company
acuCONNECT 2023 Sponsors
acuCONNECT 2023 is made possible by the generous support of our event sponsors: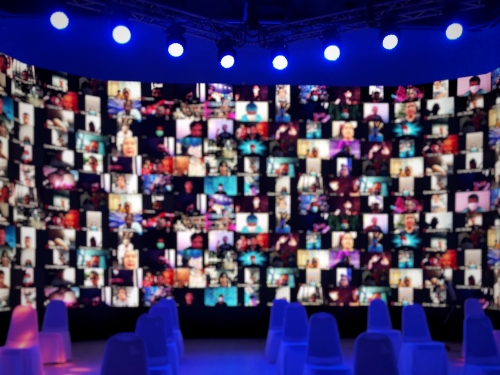 Interested acuCONNECT 2023 Sponsorship Opportunities?
Reach out to the team at acu-connect today to learn more about sponsorship opportunities for acuCONNECT 2023. It's a great way to connect with the acu-connect community and increase awareness about your solutions and services!
Still Not a Member of acu-connect?
The annual acuCONNECT virtual conference is only one way our community connects to discuss and learn more about Acumatica Cloud ERP. Subscribe today and continue to learn from Acumatica subject experts, share your Acumatica knowledge, and connect with other Acumatica users in your industry year around!