Unlock the Secrets to Profitability: Mastering Inventory Optimization and Price Management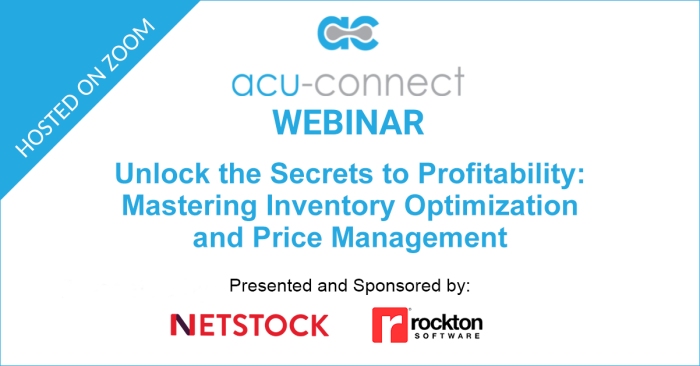 Join Netstock and Rockton for a 40-minute learning session that will revolutionize your approach to business profitability. Gain valuable insights, expert tips, and practical techniques to stay consistently profitable in today's competitive market.
In this webinar, you'll learn how:
Efficient inventory optimization reduces costs, aligns pricing with demand, and enables targeted promotions.
Effective price management creates a balance between supply and demand while also optimizing profits, allowing you to adapt to market changes, increase profit, and decrease effort.
Don't miss out on this exclusive opportunity to supercharge your profits. Reserve your spot now!
Date: Thursday, June 8th, 2023
Time:  2:00 pm EST/11:00 am PST
Duration: 40 minutes
Presented and Sponsored By: Netstock and Rockton Software
NOTE: If you are unable to attend, please still register so we can send you a copy of the recording.
We look forward to seeing you online soon!
Rockton Software – Rockton Software has 20 years of experience in the ERP space offering custom development and add-on solutions. We will be showcasing the most powerful pricing solution available. Rockton Pricing Management is for anyone who needs to track special pricing adjustments, save time and money, automate even the most complex and obscure pricing scenarios and so much more. Helping you to make Work Simpler & Easier®️  is our business and we've built our reputation through genuine connections with our customers, delivering quality products, and supporting each other.
Netstock – Netstock's founders were among the pioneers of predictive and automated inventory management and supply chain technologies in the late 1980s. They witnessed those technologies become the exclusive domain of the largest enterprises in the world, creating a tech gap that has only widened with growing supply chain complexity. When the founders came together to launch Netstock in 2009, they shared a clear vision: To deliver supply chain planning solutions that made predictive and automated supply chain planning practical and intuitive, giving businesses the capabilities to level the playing field and compete with the industry giants. Over the last 15 years, we've built out regional presences that give us deep insights into supply chain planning factors in each market. We continue to enhance our supply chain planning solutions, making our predictive engine smarter, accelerating automation, and adding sophisticated new capabilities such as AI and machine learning.